Don's 1975 Cadillac Eldorado is only one of 8,950 built that year. The convertible sports a 500 cubic inch (8.2 liter), 190 HP engine, with a "Jennifer Blue" exterior with white top and "Light Antique Blue" interior, with power everything: top, windows, steering, and 6-way power 50/50 seats with armrest, complete with AM/FM 8-track deck.

A large car that is 225 inches long (19 feet), 126.3 inch (10 feet) wheelbase, with a curb weight of 5,167 pounds (2 1/2 ton).

It has received the NC Antique Automobile Association's "Red Bird Award" for meeting close to original new show room criteria. It has also been awarded a number of 1st place local showings.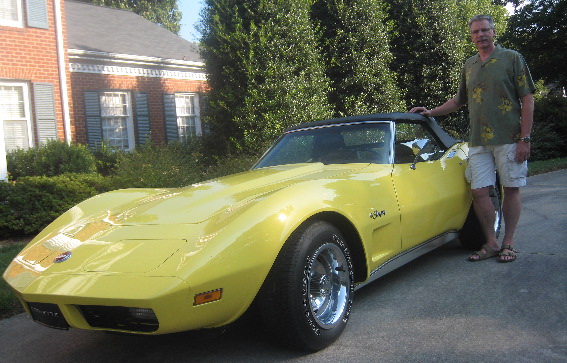 Andy's 1974 Corvette convertible is only one of 5,474 built that year. Also a 1st Place finisher in several local shows, the car is 185 inches (15 feet) by 69 inches (6 feet), with a ground clearance of only 4.5 inches. The body is 100% fiberglass, hand crafted at the factory. It has an automatic transmission, coupled to a small block, 350-cid 195 HP, with a Rochester Quadra-Jet Four-Barrel carburetor. It is bright Yellow with saddle interior. It has power steering and power brakes. Inside it has AM/FM radio, and air conditioning, with an optional extra Hard Top.