RIF
(Reading is Fundamental)
To visit national RIF,click here
---
Reading is Fundamental (RIF) is a program that gives books to students in the elementary grades to encourage and demonstrate the joy of reading. Improved reading skills at an early age is important for the development of all aspects of our children's educational process.

The Burlington Rotary Club is happy to sponsor RIF for the six Burlington Elementary Schools-- Homer Andrews, Eastlawn, Grove Park, Hillcrest, Harvey R. Newlin, and Marvin B. Smith. Books are distributed three times during the school year. At each distribution, the students in grades, 3, 4, and 5, choose one RIF book from a wide selection of topics and authors. The school librarian select the books for Rotary to order for their schools from the publisher's catalog. She then schedules the days for book distributions and schedules the classes in the school library. Rotarians are present to welcome the students to RIF day, to discuss the program and the joys of reading and lastly to stamp each selected book and ask the student to write his/her name in it. In addition, each student is given a RIF/Rotary book-mark.

Typically the Burlington Rotary Club distributes just under 6000 books during a school year. Approximately three-fourth of the funding for the books are provided by the national RIF organization in Washington, DC, which receives funding from foundations and Congress. The other one-quarter comes from support from PTA's, local businesses and our own Rotary Club's Benevolent Fund.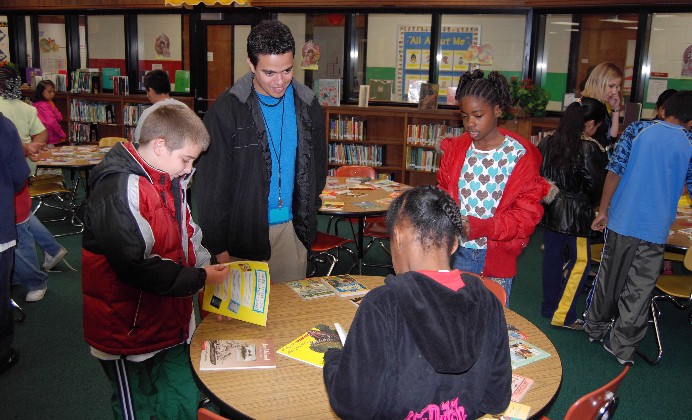 Students selecting their books
Harvey Newlin Elementary School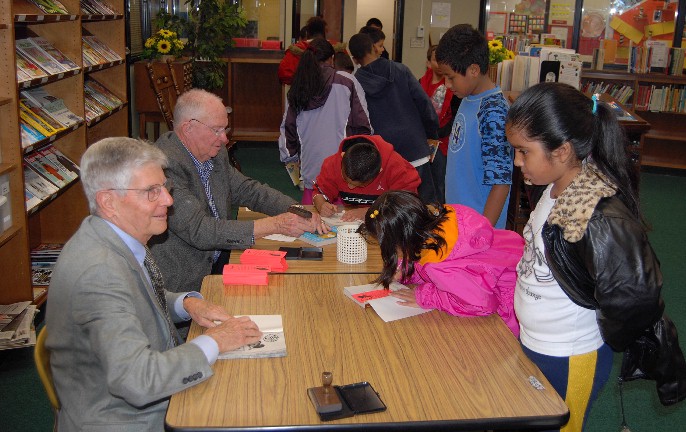 Rotarians Signing Books
Harvey Newlin Elementary School
Thanks, Henry and Dave